The N-1 Rocket and the Soviet Manned Lunar Program.
What were the Russians doing while the USA was racing to the Moon with the Apollo project? They denied ever taking part in the space race, but in fact they were working on their own super booster, a rocket to rival the Saturn V. This was the secret N-1 project.
The N-1 was a huge rocket, similar in size to the Saturn V. It was launched four times, with every launch ending in an explosion. There were associated programs to develop a lunar lander, roughly equivalent to the Apollo LEM, and an orbiter roughly equivalent to the Apollo Command Module.
The N-1 program was cancelled in 1974, and attempts were made to wipe out all evidence it had ever existed. These pages describe the craft built for the Soviet Manned Lunar Program, and tell the story of the rocket.
There's a page in support of the ARA Press book "N-1", where I provided the graphics. I believe t to be the most detailed and accurate description of the N-1 ever published.
There's also a gallery, with every image I have been able to get find on display, (if I could get permission to do so).

An overview of the N-1 program, and the people involved.

A collection of many images from the manned lunar program.

Features of the rockets, and major systems.

Where to find out more information, with links to sources in Russian and English.

A discussion on why the N-1 did not deliver astronauts to the Moon.

Information on the launch facilities at Baikonur

Information on the N-1 book from ARA Press, for which I provided the graphics.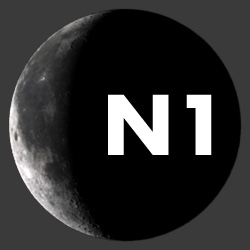 I have set up a Soviet Lunar Program discussion group on Yahoo, for those who want to discuss the program, and to support the book.

Email Me
Articles
Tutorials
N-1 Rocket
Galleries
Home

How to identify the different variants of N1 in a photograph.

Some videos of the N-1 rocket