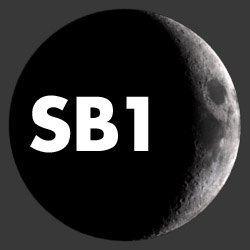 Home
Galleries
N-1 Rocket
Tutorials
Articles
Email Me
Lightwave Tutorial - Elegant Tumble
This is a short simple tutorial, but it does assume a basic working knowledge of Lightwave, in particular it assumes knowledge of key frames, nulls, and parenting. If these are new to you, it would be handy to check the manual before you get started!
Sometimes a really nice way to show off your 3D object is to have it gently tumble in the centre of the screen, so you get to see it from different angles. When I first tried to do this, it was surprisingly tricky to get it looking good.
At the risk of showing my age, what I had in mind was something like the old computer game "Elite", an elegant gentle roll, smoothly showing it from every angle.
The simple approach I first tried was to get the object, and set a steady increasing rotation on heading, pitch and bank. But it seemed to get stuck for periods, or do odd twirls, it was very uneven, and also very difficult to adjust. Thinking about it, when part of the object is pointing up near the pole, (to use a geographical analogy), a large increase to rotation around the equator in latitude will only produce a small movement.
After a bit of thought I came up with a better method.
The trick is to make each of the three axes independent, and this is done by use of parented nulls.
So here we go.
Panoramic format prints can be a lot more expensive than normally proportioned ones, so you will find it very useful to have your own photo printer. Very wide shots can be extremely long and thin, a printer that takes a roll of paper can be much more effective here. If you do want commercial prints, personally I am very happy with the service I have received from http://WWW.PHOTOBOX.CO.UK There is a LOT of detail in most panoramas (and other compound images), so you will probably want to print larger than usual, to bring the best out of your photos.
Start with a completely clear scene, and add three nulls.

Name these nulls: null-roll-heading, null-roll-pitch, and null-roll-bank.

Set the end frame on the scene to 750, or something like that – the exact number is not important, but this should work well. I chose it because that's 30 seconds of animation.

Go to the end frame, and select null-roll-heading. Set the heading to 340.
Select the null-roll-pitch. Set the pitch to 250.
Select the null-roll-bank. Set the bank to 90.
To avoid mistakes I recommend that you disable the other rotation channels, by clicking on the H, P or B buttons as appropriate.

You can choose different numbers if you like – the exact values are not important, but make sure they are not the same. If you make them factors of each other, e.g. 100, 200, 300 then the patterns will repeat eventually.

Now we need to make sure that the rolling will continue for as long as we want, so go to the graph editor, and select each of the values we just entered in turn. Set the after behaviour to 'repeat offset', so they will carry on turning.

Increase your end of scene value to 1500 or more to check.
As we all know, good parenting is an important skill, and in this case it is essential for the effect to work. The nulls must be parented to each other, so that the motions add up, and we get movement in every dimension.
So, take the null-roll-pitch, go to 'motion options' and set the parent object to null-roll-heading.
Next take the null-roll-bank object and parent it to null-roll-pitch, so we have a chain of parents, from heading to pitch to bank. (The exact order again does not matter, but for now follow me).
Here's a grab of the schematic view of the scene:
Home
Galleries
N-1 Rocket
Tutorials
Articles
Email Me
If you pull the frame slider backwards and forwards, you will see things happening, but it is not clear what – for that we need to add an object. The object will rotate around the origin, so it will work best if the object has been centred in modeller (use the F2 key).
Pick an object, load it up, and parent it to the last null in the chain, (in this case null-roll-bank). Now if you use the frame slider you will see it roll nicely. A simple object is best for a first pass.
If you get a twitch or jerk at frame 750, you probably missed one of the nulls being set to post behaviour of 'offset repeat'.
If you want a longer animation, just adjust the end frame, no need to change anything else.
Here is a simple sample scene with everything set up. It uses the 'space fighter' object as an example, which you should have included with your LW content. If you can't find it, just replace it with any object of your choice. (Something a few metres across will work without adjustments).
The sample scene has very simple lighting, as the main objective here is the movement. Of course you can crank up the lighting settings, turn on motion blur, and generally improve the quality.
When you replace the tumbling object, (which is not included in the scene), you may need to allow for a different scale. The easy way is to go to the first frame, and pull the camera back or forwards. The spotlight is set to target the tumbling object, you may want to adjust it's angle of illumination, or if feeling lazy, just replace it with a distant light.
You may want to move the object that is doing the tumbling around, for example to make it fly past the camera. A convenient way to do this is to add a new null, (maybe called master-null), and parent to top level null in your chain to that. You can them move the master-null around and not mess up any key frames on other nulls.
You can adjust the speed of the tumble easily by adjusting the degree of rotation given to each null at frame 750.